Home → Volunteer Central → Opportunities → NIMH Sessions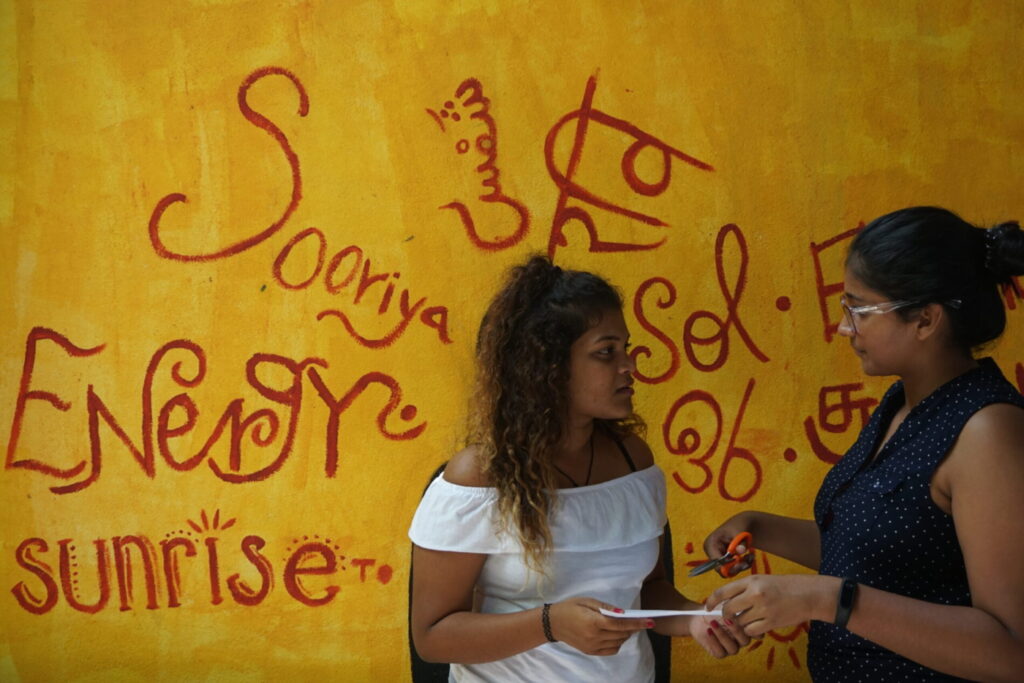 Be a teacher, a friend and a helping hand.
Project Bloom has partnered with the National Institute of Mental Health Sri Lanka with great plans of making a lasting change! Our goal is to inculcate valuable skills in youngsters with mental health issues that could come in handy to them as they step into society as adults one day.
In this flagship opportunity at Project Bloom, we focus on the group of inpatient adolescents at the Adolescent Unit of the National Institute of Mental Health in Mulleriyawa (Angoda), Sri Lanka, a state-run hospital specializing in mental health. You will volunteer as a group of 3 to 6 volunteers on most Sundays, from 4pm to 6pm.
You will help each other in delivering a predefined lesson plan, mostly comprising of basic tasks consisting of the languages and mathematics, among other academically-related lessons, with a focus on individual attention. We also incorporate the arts and crafts into our sessions as they are found to be very therapeutic. You will also be part of a growing base of like-minded volunteers, with a shared vision for better mental health care in the country.
We are looking for mature, empathetic, responsible and patient applicants who enjoy or thrive working with adolescents or children in a relatively informal setting. These values will be assessed using what you state on your application.
Frequently Asked Questions
Q. What will I be doing as a volunteer?
A. You can help in teaching and administering English, Math, Dancing, Singing and Drama lessons and, carry out Art, Music and Laughing therapy sessions. For most sessions, a lesson plan would be made available to you one day prior, on our WhatsApp group. Some sessions are unstructured and therefore, may require improvisation. We invite you to take a look at our Instagram page, which contains details and pictures of some sessions we've conducted in the past.
Also, you could take part in other aspects of Project Bloom involving one-off projects such as space-renovations and advocacy campaigns and workshops (Our Impact). Follow us on social media for any announcements of future sub-projects so that you can volunteer for them.
Q. Where will all of this happen?
A. At the National Institute of Mental Health (NIMH) in Mulleriyawa New Town (formerly Angoda), Sri Lanka.
Q. Is transport to the location provided?
A. At this moment in time, we are unable to provide transport to Mulleriyawa. Volunteers are expected to make necessary arrangements to arrive and depart the NIMH at their own expense.
Q. What are the times and dates?
A. Sundays, 16:00 to 18:00.
Sessions will not take place every Sunday. Exact dates would be available after you sign up and join our volunteer management platform, Timecounts.
Q. What is the dress code for volunteers at the NIMH?
A. Wear something you feel comfortable in, however, please ensure your attire is decent, subject to the norms of a government-run hospital.
Q. Are there any tips for when I volunteer at the NIMH?
A. It is advisable to follow some simple, but helpful tips when you are volunteering at the NIMH:
Refrain from shouting or making loud noises. The NIMH is a calm and peaceful sanctuary for people with mental health illnesses.
Be respectful of patients and their privacy. No photographs and/ or videos are permitted that reveal the identity of patients for reasons concerning privacy.
Respect and follow instructions of nurses, doctors or any other healthcare professional you may come across. Remember, volunteers are not expected to treat patients, leave this task to the professionals.
Many of the adolescents at the NIMH are emotionally vulnerable individuals, therefore, be mindful of your actions and do not do or say anything that might cause emotional distress to anyone.
Q. Will I receive any training for this opportunity?
A. No formal training is required for this volunteer opportunity as the activities do not require any specialised or professional skills. Our volunteer supervisor will be there to guide you throughout your time with us.
Q. How can I select the days that I will volunteer on?
A. After you are approved, you will see upcoming volunteer opportunities, which you may then select and confirm. If a particular opportunity has reached the volunteer participant limit, you may join a waitlist. If another volunteer cancels, you will then be confirmed.
Q. Are there any special terms that I need to agree to as a volunteer?
A. Yes.
Minimum requirement – We require every volunteer to satisfy a minimum of one Sunday per month. If you feel that you're unable to commit in a given month you will need to inform us over the previous month.
Cancellation Policy– When you sign up by confirming a given slot, you commit to showing up. The smooth running of the program depends on your attendance and punctuality. We are extremely strict on last minute cancellations besides in the case of a family or medical emergency.
Volunteer Certification Letter– To be issued a letter in recognition of your volunteer hours, a minimum of 4 sessions (8 hours in total, and depending on slot availability) over 3 consecutive months apply.
If this opportunity seems like the right fit for you, and you understand the role of a volunteer: